Chatbots
Adding conversational chatbots to your website allows you to offer support, qualify and assign leads, book meetings and scale your 1-to-1 conversations.
Automate & Scale
With chatbots, you can allow your website to have unlimited, personal conversations that engage website visitors and help you qualify leads, book meetings, offer support and more. Schedule a strategy session to learn more about how a chatbot can help you generate more leads and delight your customers.
Convert More Leads
Chatbots give your website visitors the chance to find what they're looking for immediately. Eliminating friction in the buying process always leads to more engagement, more conversations and more leads to pass to your sales team.
Support Your Customers
Your customer's expectations are no lower than a prospect or website visitor. Your chatbot gives you the ability to answer their questions, create tickets and direct customers to the right knowledge base article. You can even design it to hand off to a customer service rep with live chat.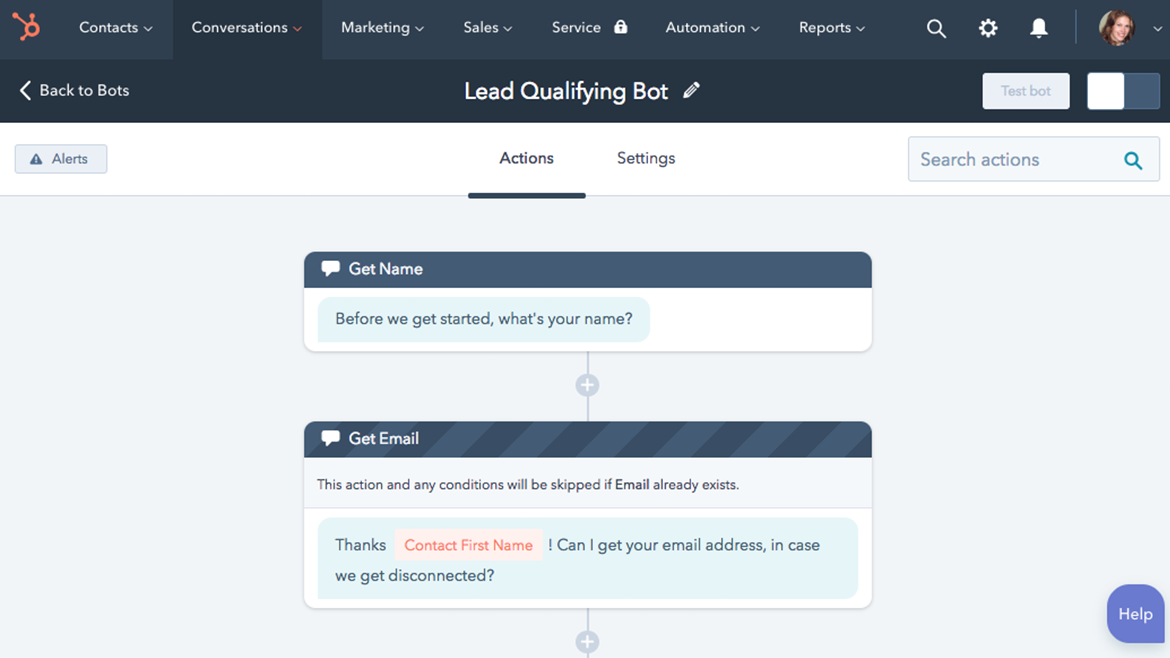 Qualify Leads
Ask qualifying questions to determine what they're interested in and/or who can best help them. Then direct them to the right page or pass them to a member of your live chat team.
Offer Knowledge & Support
Give visitors the choice to search your knowledge base for articles that can help them, or chat with your team now. Offer immediate support and smart response handling while your team is away.
Book Meetings
Skip the form submission and email back-and-forth. Help visitors book a meeting (like a demo or consultation) with the right person or team by asking qualifying questions, then sharing a calendar link.
Open Support Tickets
Collect information from your customers, and based on that information automatically create a support ticket and assign it to the appropriate team or representative so they can follow-up.
Chatbots fueled by AI are predicted to handle 85% of customer service by 2020.
(Innovation Enterprise, 2019)
About Our Chatbot Solutions
Single Chatbot
We'll create a strategy, then build and launch a bot on your website. Solution includes branching logic, testing, CRM integration and automation.
"Before partnering with the Gist, we had a very ad-hoc, fragmented approach to marketing. CJ is highly organized and is able to lead very productive meetings which always results in clear actionable strategies and takeaways. The Gist really has become an extension of our organization helping establish SelectOne as experts and thought leaders."
Aly Finkle
Director, SelectOne

Partner With Us
You want to grow. We can help. Drop us a line or schedule an exploratory call.